Jocks interview

This is an interview with Jock Douglas on his efforts towards establishing an Environmental management system called ALMS (Australian Landcare Management System).
We would like to hear any comments either for or against the ALMS idea, so Jock can keep shaping the idea into an approach that will work for landholders.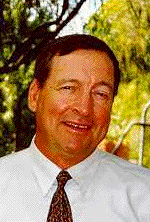 Jock Douglas
P.O. Box 320 Roma Queensland 4455
Ph:(07) 46 268100 Fax: (07) 46 268139
e-mail: douglasj@ripnet.com.au
(1) What sort of Farming background do you have Jock?
Probably a bit different from the norm.
As part of a family enterprise I grew up trading cattle, back in the days of
drovers, from the Gulf of Carpentaria to New South Wales. This plus buying
and developing properties north and south of Mitchell. I Have had a
lifetime in the cattle industry in the Maranoa district of Queensland. I
Learned
about grain farming when the 70's cattle depression required a new income
source.
My wife Mina and I are currently into backgrounding cattle for the domestic
market, grass seed production and developing some irrigated horticulture
(desert limes) here near Roma.
(2) Most people know you from being the first Qld Landcare Chairman. Why
did you take that job on?
I sometimes wondered.
It was mainly because of a belief that the voluntary approach of Landcare
was the best way to bring about improved natural resources management and we
need landholders in the driving seat locally to do it. Also, because I was
asked
by the Minister for Primary Industries Ed Casey. This followed my
involvement in the genesis of the landcare movement.
I said that I would accept only if the Queensland Landcare Council (QLC) was
reformed with a role broadened from the narrow PR role it then had and made
some suggestions. Casey asked me to write a paper on an expanded role for
his consideration. I included:
* an advisory capacity for natural resource management issues;
* better representation from Landcare groups with representatives elected
rather than nominated;
* an assessment capacity for National Landcare Program funded projects.
He accepted the proposed changes and I accepted the responsibility of
chairing the reformed QLC.
(3) During a vegetation forum at Roma last year, where 2,000 landholders
gathered and marched, you first suggested your concept of ALMS.(Australian
Landcare Management System) Why did you put that to landholders and what was
their reaction?
I wanted to try out my ideas with the people concerned.
This occasion promised plenty of people who were certainly concerned!
The concept outline was put in a 10 minute address to a (fairly hostile)
gathering of some 700 people in the Sports Centre at Roma. My talk
immediately followed the then Queensland Minister for Natural Resources Rod
Welford who had spelt out his proposed legislation on tree clearing - the
purpose of the gathering. The reaction as I read it was quiet, thoughtful
and positive. I requested a show of hands for and against. Many raised in
favour and only four raised against. Numerous people approached me
afterwards to
discuss it. The typical comment was, "It's the only way to go."
The positive reaction from landholders that day and in that situation has
been the spur to further develop and implement the concept now known as
ALMS.
(4) What is ALMS and what is its ultimate aim?
ALMS is about recognition and reward for good natural resource management.
It is a voluntary whole of farm environmental management system that will
lead to continuous improvement in resource management on farms and within
catchments. But ALMS is more than an individual farm based management
system.
ALMS is aimed at improved natural resource management (NRM) and has three
functions:
1. ALMS as a stand-alone EMS:(environmental management system)
In other words, a monitoring system that does not have to be linked to
anything else
2. ALMS as a framework: that is, to link other accredited EMS's to landcare,
catchment management and to NRM programs.
3. ALMS for recognition: By providing a nationally recognised logo for
products sourced from farms with a certified management system linked to
catchment management. The logo association is of products that are clean
and safe and from environmentally caring farms.
EMS's have a continuous checking cycle, rather than a set
standard of resource condition. It is the cycle of monitoring and response
to that which is audited and certified, not the resource condition. The
certification opens the door for market benefits and for incentives
(5) What sort of reaction have you received from various people?
I keep being told that it's a good (even a great) idea. However,
transforming the idea into action is frustratingly slow.
The ALMS concept has been further developed since the Roma rally and has now
been presented to over 1000 people, some 800 of whom have been primary
producers (Roma Meat Profit Day, Queensland, Tasmanian and South Australian
State Landcare Conferences)
The response has been positive with plenty of questions asked.
The main concern from producers is "Is this another bunch of paperwork to
contend with, with no benefits apparent?"
(6) And Is It?
No. The real focus is in the paddock but there has to be a paper trail (or
computer file) to confirm that we doing this, that we are fair dinkum and
can stand scrutiny for local or international markets.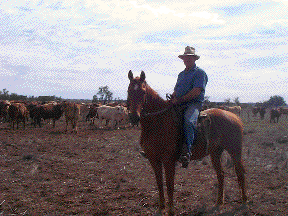 Jock Douglas with stock during a recent drought - Always a testing time for management
(7) How do you see ALMS developing?
I have my vision which is shared now by quite a few people. But this concept
won't go far unless it has 'champions' who are prepared to move it forward.
If it gathers momentum it could establish Australia's credentials as a
producer of clean, green and safe food and fibre.
Really, the concept of ALMS (or something like it) has to be taken up by
industry groups, key individuals and the political/policy process. Forward
thinking industry groups like MLA, R&D Corporations, CSIRO will be the key
leaders with the agri-political organizations more likely to follow than
lead; likewise the political/policy people.
(8) Who else is involved with the idea?
It's like throwing a stone into a pool. The circle widens.
So far the development of ALMS following the Roma rally has been assisted by
a consortium of landcare groups in southern Queensland and Meat and
Livestock Australia. Tony Gleeson from Synapse Consulting has joined me
through this stage which has seen us involved in developing and testing
ideas in workshops, conferences and meetings.
(9) How will the incentives work?
Governments don't spend lightly on things that happen behind our boundary
fences but there are 'public good' issues here which warrant public
investment.
Incentives for landholders will be needed for 'public good' outcomes on
issues such as salinity prevention and nature conservation. The Commonwealth
is now directly funding sub-catchment groups for outcomes. These Catchment
groups are deciding their strategies and priorities and it is proposed that
these groups oversee this. The landholder activity can be verified by ALMS
and once a landholders achieves this, they can receive payment.
(10) Can you describe what "Joe Bloggs" on a cattle and cropping property
does if he wants to get the ALMS system going on his place so he can
demonstrate being environmentally sound. He wants to be both rewarded in the
market place and paid for some "public good" conservation work (e.g.
wildlife areas)
This is the heart of it. What happens with people and in paddocks comes
first
and foremost. The paper/computer trail simply substantiates this.
First Joe, will be provided with a kit including a checklist of things to do
and tick off.
The starting place for Joe is his maps and records of the property`s
natural resources. (e.g. soils, water, vegetation), of noting "hotspots" in
each paddock ( woody weeds, erosion, low soil fertility, salinity etc.)
The natural resources are then checked (monitored) regularly to get a
indication of what is happening. Things like more perennial grasses
establishing, erosion occurring or reducing, or tree seedlings germinating
etc. This is the sort of information that Joe wants to know to manage his
property well anyway.
The idea is that an environmental management system (EMS) is based on a
continuous improvement cycle - plan, do, check, respond, review. (Monitoring
could be done using tools like Grasscheck etc.)
So Joe gets his family or management team together to do regular
property inspections (lets say quarterly). Armed with a camera? and
monitoring tools,
they inspect a variety of spots and record how they are going. They`ll also
observe the wider landscape, the native fauna and flora species
They will discuss the system of management for cattle and cropping, how
that might be improved given what is observed. The team will think about
long term plans and share experiences and knowledge. There might be some
useful
research information they'll take with them to discuss.
Sometimes they could bring in a specialist when they need one and involve a
landcare group. It will be about building natural resource knowledge in the
family, or the team.
Then the part comes where Joe puts all the information onto paper or a
computer.
(11) What sort of paper work does Joe have to detail?
There will be a rundown of the legislated resource management
requirements that Joe needs to comply with. Also Joe`s catchment or regional
resource management priorities would be listed for him in the material
provided. Then the are the details of Joe`s monitoring. This information
gets sent to an ALMS Service Centre which provides it to the relevant
Catchment Group on a confidential basis. Some time later Joe
will then get his catchment`s collated information back.
This is to assist natural resource management at landscape scales out in
the catchment and at paddock scales back on the farm. It will also
contribute to a 'live' resources database for better catchment management.
An auditor would visit and check that Joe`s ALMS management system is in
place:
* that he started with a resources inventory;
* that he is monitoring the resources;
* that he is carrying out regular inspections;
* that he is responding to what is being observed and recorded &
* that he is exchanging information with his catchment group.
An auditor would not measure Joe`s erosion in his sorghum paddock but
would check if Joe is, and whether he had made management changes. The
auditor might well be the same person who is auditing his Cattlecare program
and does the ALMS audit on the same visit.
(12) Let`s say Joe has done all that and he wants some return for this
effort. What happens next?
Once audited, Joe`s management system would be certified and his
property registered. His products are then eligible for a national
environmental label that would accompany them through the value chains to the consumer.
ALMS and its label and logo is promoted as signifying producing landholders
improving natural resources nationally. The label identifies an item made from
products from an environmentally caring farm with a certified management
system in place and which is linked to Catchment management.
Joe`s product can now command consumer preference and marketing
benefits.
The certification would be designed so his products would meet any
environmental approval requirements for international trade, a need which is
emerging rapidly.
Joe would also be eligible for incentives for on-property action like
setting apart wildlife areas for special management. Incentives would be
funded directly from the Commonwealth but would come through Catchment
Groups and be designed to help achieve his catchment priorities.
(13) Is anyone test driving the idea yet?
No, Not yet. We are trying to set up the operational framework and we need
support. There are some Catchment Groups and some landholders keen to start.
We have a roll-out mapped out but that has yet to be taken up and
implemented by the major players. We would like to have an 'ALMS Bureau' set
up to do this. Leadership is needed from industry bodies and support is
needed from landholders to build momentum.
(14) Why will landholders want to take on ALMS?
Money will comes first as a driver but landholders' values go well beyond
money, such as to improve how we manage our natural resources production base
and protect biodiversity and benefiting personally yet being part of
something bigger in
achieving community expectations and national aspirations.
But the three main reasons will be
(1) Getting a better handle on their property`s natural resources from the
monitoring.
(2) More money for their products and access to incentives.
(3) Personal satisfaction from the verification of their improving resource
management .
(15) Will governments be involved?
Yes, but in the background support role rather than on your property.
Governments will be important partners in implementation and
support. The partnerships will be most active within Catchment Groups.
(16) If someone wants to contact you to discuss any ideas or be a part of
the trials, who do they contact?
Jock Douglas P.O. Box 320 Roma Queensland 4455
Ph:(07) 46 268100 Fax: (07) 46 268139
e-mail: douglasj@ripnet.com.au
or
Tony Gleeson
PO Box 3746 South Brisbane Qld 4101 Ph.07-38442370 email:
syncons@ozemail.com.au